Out on the water
Water Activities – updated 12 January 2023.
There's a huge variety of Sailing, Canoeing, Kayaking & Rafting opportunities available in Poland. For those people who enjoy getting out on the water, there are many options to choose from.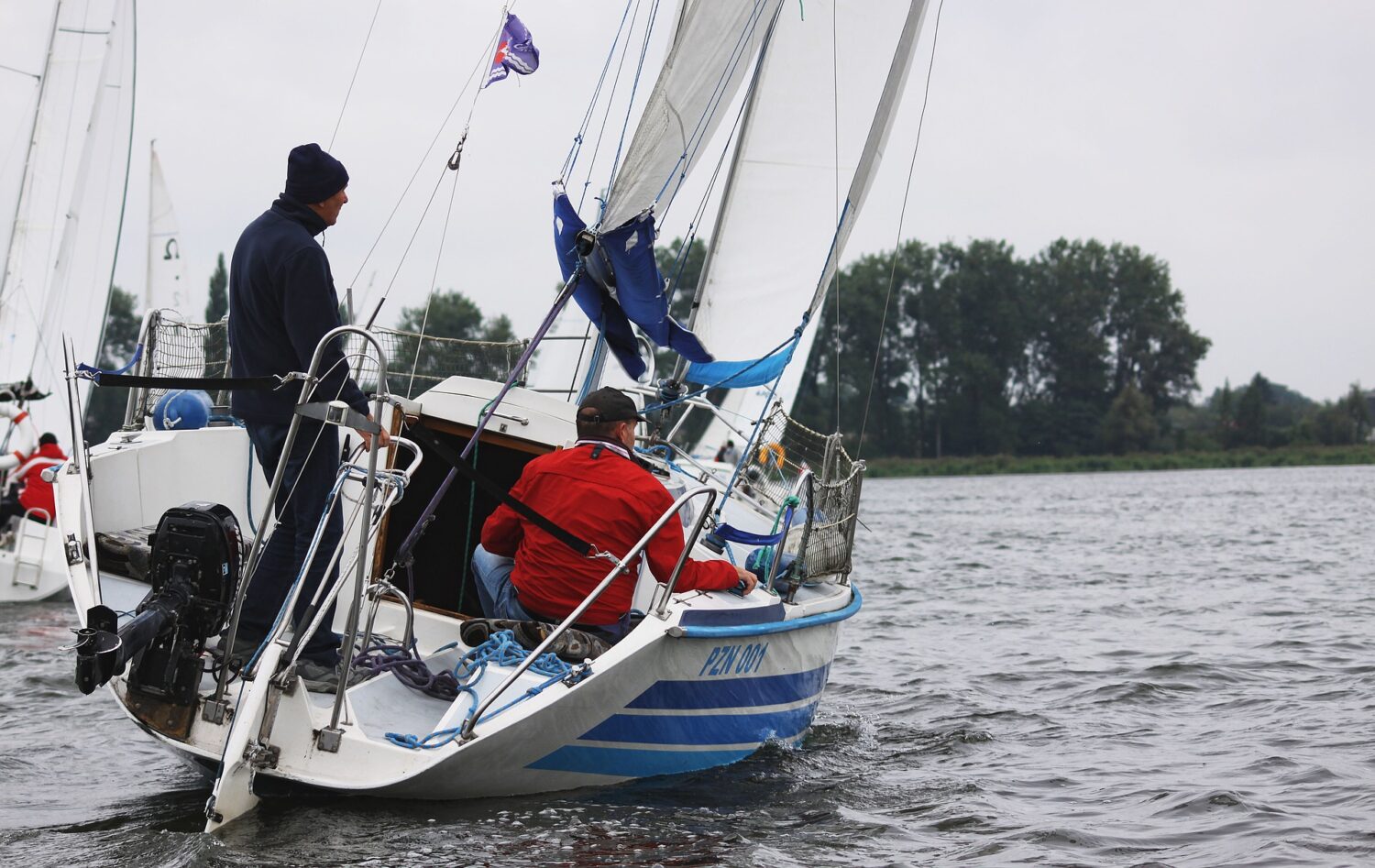 Sailing in Poland
Poland has a long coastline on the Baltic Sea, which offers a great opportunity for sailing. The Masurian Lake District in north-eastern Poland is particularly popular for sailing, as it is home to many lakes, making it ideal for sailors of all levels.
The lakes are connected by canals and rivers, allowing sailors to explore the beautiful Lakeland scenery. The Masurian Lake District is also home to many sailing clubs and marinas, which offer boat rental and sailing lessons. It is possible to enjoy two weeks on the water without visiting the same lake twice.
Known as the Polish Lake District, this impressive network of interconnected lakes offers sailors excellent facilities including a great choice of sailboats for hire with the most popular places to do so being Giżycko and Mikołajki.
Baltic coast
The Baltic coast also offers good sailing opportunities, especially in the summer months. There are several marinas and sailing clubs along the coast, which offer boat rental and sailing lessons. The main sailing centers are located in Gdansk, Gdynia, and Sopot.
The 870 square kilometre bay at Szczecin is the most popular place to sail and is shared by Germany and Poland.
There are also many historic and cultural sites to visit, such as the medieval town of Malbork, which is located on the coast, and the port city of Gdansk, which is known for its rich history and architecture.
Sailing events
Additionally, Poland is also home to several major sailing events, such as the Copernicus Cup regatta, which takes place in Gdynia, and the Sopot Regatta, which takes place in Sopot. These events attract sailors from all over the world and offer a great opportunity to see some of the best sailors in action.
License to sail
If you're going to sail, you'll need a license, which you can obtain by completing a course with the Polish Sailing Association. If you have a license issued by the RYA, then that will be accepted too. Without a license, you will only be permitted to use small inland sailing vessels (a sailing yacht with hull length up to 7.5 m or a motor yacht with 10kW engine power). Alternatively, you can hire a larger vessel complete with skipper.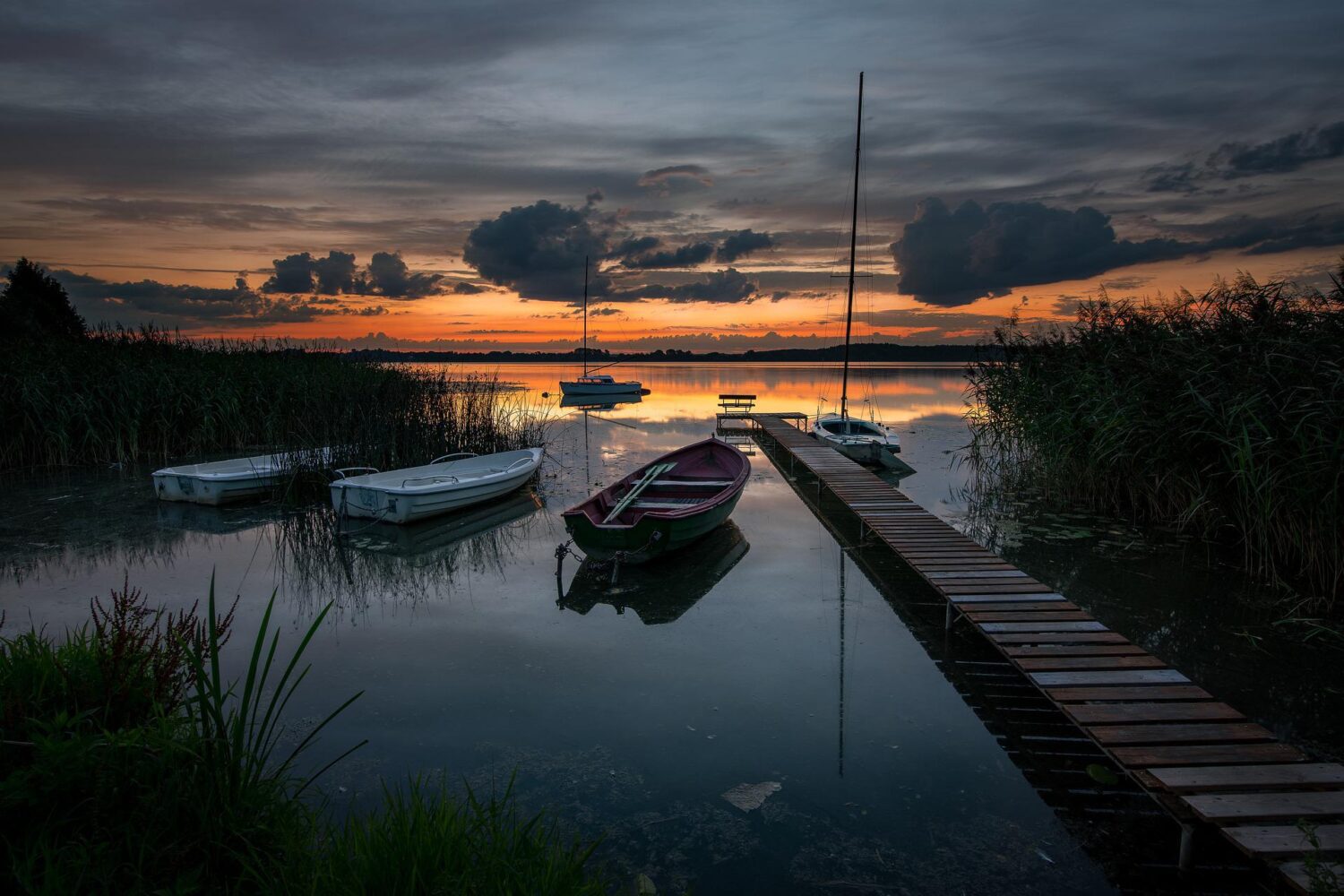 Canoeing, Kayaking & Rafting
There's an incredible variety of places in Poland where you can get paddling. The Lakeland areas such as Masuria, Kashubia and Warmia contain thousands of lakes and rivers, there's also canals, various river tributaries and bogs that you could choose.
Masurian Lakes
If the Great Masurian Lakes is your preference, then a good starting point is Olsztyn, located on the Łyna River. There are plenty of companies, which organise trips, guides and equipment. A popular canoeing trip from Olsztyn is to paddle up the Łyna River to the border of Russia's Kaliningrad exclave.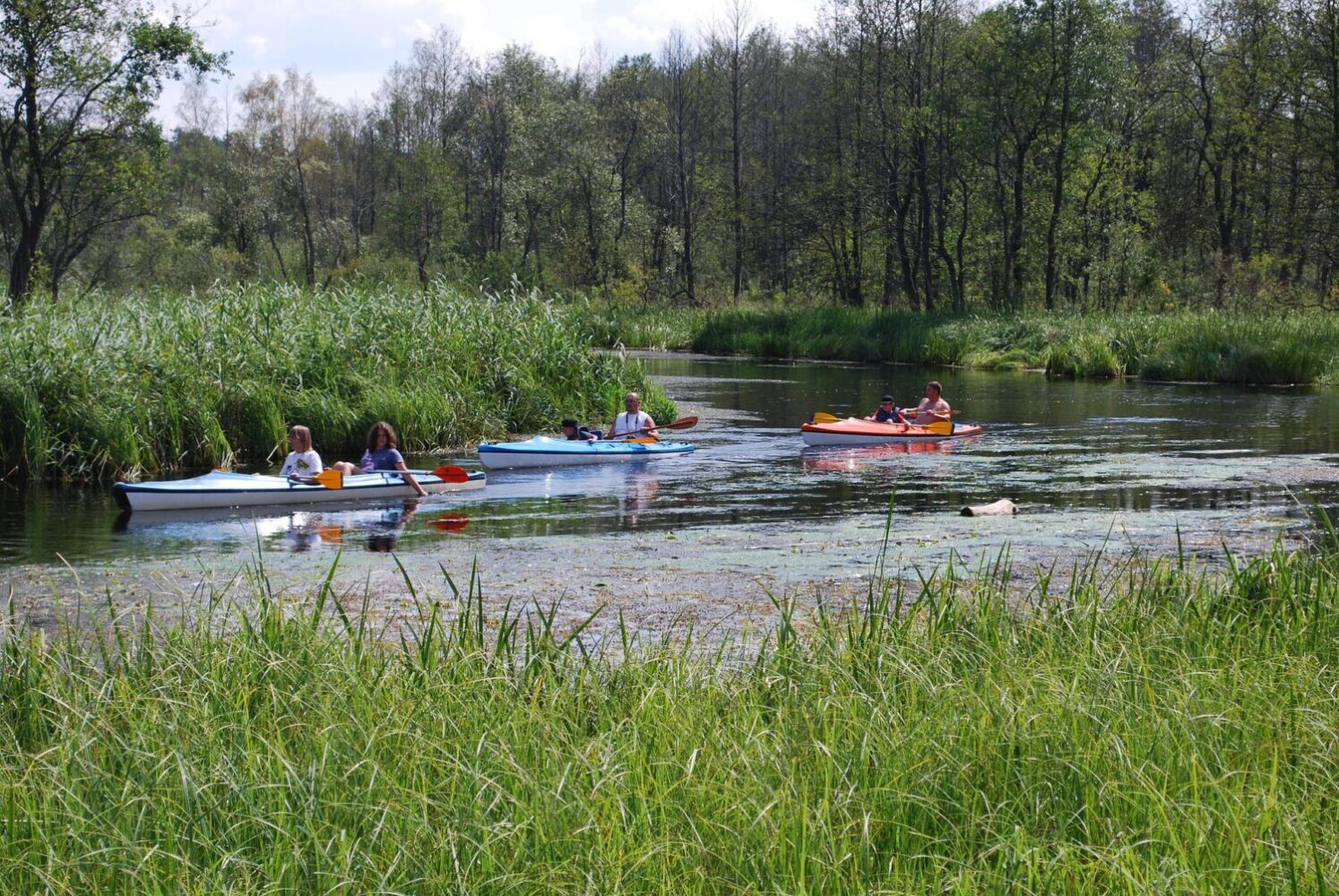 Krutynia River
By far, the most popular canoeing route in Masuria is the Krutynia River, which is considered by many paddling enthusiasts as being the most scenic river in the north of Poland. The recommended starting point is Sorkwity and you should follow the river and Lake Bełdany to Ruciane-Nida, a well-known tourist centre within the Masurian Lake District. The route takes you through 100km of some of the best scenery in Poland.
Drweca River
Another interesting Mazurian route is that of the Drweca River which is one of the clearest rivers in Poland. It is about 200 km long. It starts at Ostroda, flows through forests and wildlife reserves, and goes all the way to the Vistula River near Torun. Comfortable sites for camping are found on both riverbanks. There is an annual "International Canoe Trip on Drweca river", which is popular among canoeists from many countries.
Czarna Hańcza route
Away from Masuria, you will find other good places to paddle. The Czarna Hańcza route from Augustów to Lake Serwy is extremely popular and includes the 180-year-old Augustów Canal, the Suwałki Lake District and the Augustów Forest.
National Parks
Many paddling favourites can be found in Poland's National Parks such as the Biebrza River, which runs through Biebrza National Park, Lake Wigry in the Wigry National Park, the Narew River in the Narew National Park and Brda River in the Bory Tucholskie National Park. Experienced kayakers can often be found navigating the Drawa Route, which runs through Drawa National Park.
Mountain rivers
Kayakers looking for that special, intense experience should go down one of the three true Mountain rivers, best suited for kayaking. For example, the Bialka running through Tatry and Podhale – horrifyingly cold, rushing, foamy and strewn with granite rocks.
Dunajec Gorge
If a leisurely rafting trip (no white-water) is your cup of tea, then the Dunajec Gorge in the Pieniny is recommended. Experienced tourists can seek adventures along more challenging whirls and rocks of mountain rivers. Kayak trips for groups are organised on the Dunajec River, which seems to be the best choice, also because of its picturesque gorges in the Pieniny Mountains.
FAQ – Sailing in Poland
What is the best time of year to sail in Poland?
The best time to sail in Poland is typically between May and September, when the weather is warm and stable.
Can foreigners sail in Poland?
Yes, foreigners are welcome to sail in Poland. Some marinas and charter companies may require sailors to have valid international sailing certificates or licenses.
Are there any restrictions on sailing in Poland?
There are some restrictions on sailing in Poland, such as speed limits in certain areas, and certain waterways may be closed to navigation due to low water levels or other factors. It is important to check local regulations and obtain any necessary permits before setting out on a sailing trip in Poland.
What kind of sailing conditions can I expect in Poland?
The sailing conditions in Poland vary depending on the region and the time of year. The Baltic Sea coast is generally flat with light winds, while the lakes and rivers in the interior can have more variable conditions. It is important to check the weather forecast and plan accordingly.
Are there any must-see sailing destinations in Poland?
Some popular sailing destinations in Poland include the Masurian Lakes, the Hel Peninsula, and the Pomeranian coastline. The Szczecin Lagoon and the Vistula River are also popular among sailors.
How to rent a boat in Poland?
There are several options for renting a boat in Poland, including charter companies and private boat owners. You can find rental options online, or by contacting marinas or tourist information centers. Some rental companies may require a deposit or proof of sailing experience and certification.
Head to southern Poland's most picturesque district for a rafting trip on the Dunajec River and walk through the treetops of Slovakia.
Rush through the waters of the Dunajec river and feel the adrenaline rushing through your body. After admiring the scenery from the water, you will head up into the air. Walk the treetop walk in Slovakia and discover the Tatra region – Book tickets